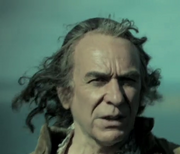 The Jew who is one of the Sons of Mithras, who had a book that was written in jewish language, was in fact map to search the book of leaves and vault of heaven.
Avraham ben Yosef

General Description
Aliases/Nicknames:
The Jew
Species:
Human
Gender:
Male
Ideology
Family
Show Information
Portrayed by:
Ken Bones
Ad blocker interference detected!
Wikia is a free-to-use site that makes money from advertising. We have a modified experience for viewers using ad blockers

Wikia is not accessible if you've made further modifications. Remove the custom ad blocker rule(s) and the page will load as expected.